SHOP OUR SALES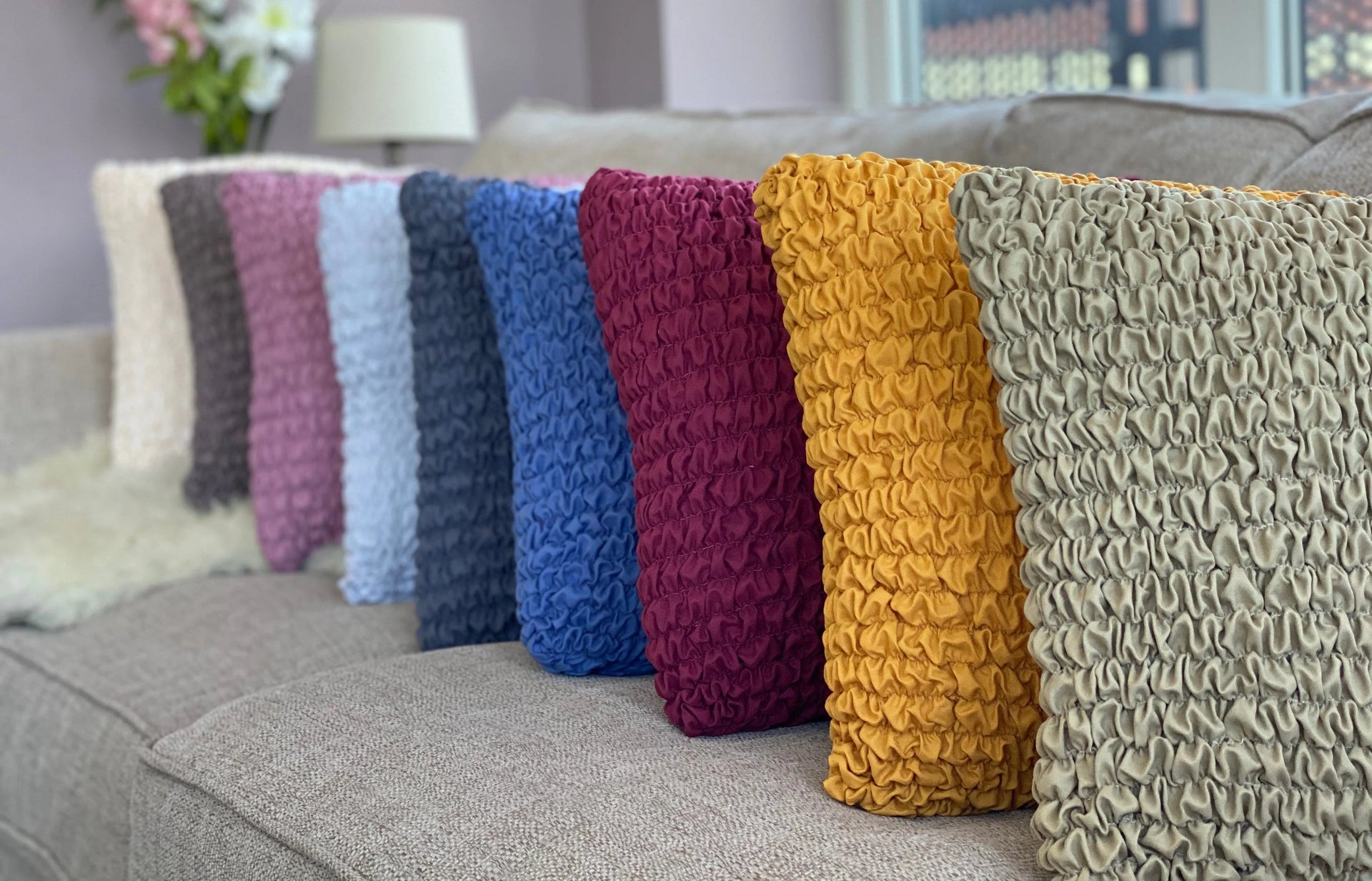 INSPIRATION
How to Mix and Match Pillows on a Sofa
August 28, 2023
10 min. read
Sofa pillows are often underestimated decoration pieces. Many people don't even bother swapping them out with the season change. However, these seemingly simple decorative items have transformative power. In this article, we'll show you how to mix and match pillows on a sofa so your overall home ambiance looks stylish and inviting. We promise our sofa pillow ideas will leave you inspired and ready to revamp your living space effortlessly!
Choose a Color Theme for Your Pillows
There are many different ways to mix and match throw pillows, but if you want to nail this game, start by choosing a color theme. When all the elements in your room are tied together by color, they create a harmonious and visually pleasing composition. Ideally, you want to pick 2-3 colors to dominate your home decor. This can be the color of your sofa couch covers, a carpet, and artwork on the wall. When you see which color your home decor theme leans toward, you can make the best pillow arrangements on the couch. 
For example, if your living room is adorned in light shades of blue, you can add a pop of color with a throw pillow in a contrasting hue like white or bright teal. Pillows in these shades can make a statement and become a focal point of your room. Should your room be built around neutrals, consider introducing a couple of accent colors that can breathe life into the space. 
Choose 3 Main Patterns
You can also try mixing pillow patterns. The main rule is to choose patterns that have at least one shade found in your pillow color theme. A good idea is to choose the dominant pattern first. This will be a pillow with the largest print containing all the colors from your color theme. When it comes to secondary pillows, go for patterns that contain two-three colors of the main print to tie the whole arrangement together. In case you have mismatched pillows on the couch, pillow covers can be a game-changer. Here are a few couch pillows ideas to incorporate patterns in your home.
Floral meets geometry

. Combine the soft elegance of a floral pattern with the structured lines of geometric design. Against a solid-colored backdrop, this fusion creates a contemporary contrast that exudes modernity and sophistication. 

Timeless trio. Experiment with enduring classics like toile, buffalo check, and stripes. Arrange them in a sequence that evokes nostalgia and elegance, offering a tasteful blend of tradition and contemporary flair. 
Chevron delight. Merge the energetic chevron with the charm of dotted patterns and the cozy warmth of knit textures. This amalgamation presents a visual mosaic that's both engaging and inviting. 
Play With Pattern Sizes
When mixing throw pillows, the size of the patterns matters as well. To elevate the interior and not create a mess on your couch, it's important to choose varying pattern sizes so that they complement one another, creating a well-balanced and visually engaging display. So, begin by selecting three distinctive pattern sizes: large, medium, and small. 
Your dominant pattern — the showstopper — should grace the largest pillows. This pattern assumes the role of the focal point, setting the stage for your pillow stack. The supporting characters, so to say, are the medium and small patterns. These patterns should incorporate colors from your dominant pattern so that the ensemble looks perfect together and nothing sticks out of it like a sore thumb.
Here are a few tips on how to coordinate throw pillows in your living room. Let's take the patterns mentioned earlier. If you opt for a large geometric pattern, a floral print shouldn't be too bold or too large. Ideally, it should be half the size of the main pattern or even smaller so as not to clutter the space. For a more strict combination of stripes and checks, it's best to add subtle accents. For example, a solid pillow with a motivational quote can do the trick. 
Combine Solids With Prints
If you don't want to incorporate too many patterns, try playing with solids and prints. Start by picking a print that you like. And then work solids around it, making sure their colors match perfectly. What's great about this couch pillow idea is that it makes it easy for you to freshen up your home. So you can swap in a few new prints every season to keep your home looking nice and stylish. Another great thing about mixing prints with solids is that you can try different pattern scales to find the one that speaks directly to you. One throw may have a large motif, and two or three others can have smaller prints. 
Decide on Texture
When looking for tips on how to decorate with throw pillows, don't forget about texture. Texture adds depth, tactile allure, and an unmistakable sense of coziness to your living space while adding layers of visual interest to your pillow ensemble. Texture also thrives on contrast — the contrast between soft and rough, matte and glossy, intricate and simple. By weaving these opposing textures together, you craft a dynamic narrative that's simultaneously stimulating and serene. So, don't be afraid to play with fabrics. A great way to elevate the interior is by introducing fluffy and ruffled pillows. This combo looks sophisticated and chic. If you'd like to add a romantic vibe to your dwelling, consider choosing throws in velvet and sequins. 
Additional Tips
You may have noticed that some of the best pillow arrangements are built around three patterns, three colors, or three textures. However, this doesn't mean that this rule can't be broken. Moreover, in the realm of interior design, breaking rules often leads to innovation, unveiling new dimensions of creative expression. So, here are some more pillow ideas for couch revamping that you may want to consider when decorating your living space. 
Odd numbers look modern
In home interior design, odd numbers look modern and artful. So, if you want to enhance the aesthetic of your dwelling, arrange your setting with 3, 5, or more throw pillows. Also, keep in note that a pile of larger pillows looks more presentable and fresher compared to smaller throws. With that in mind, rather than overcrowding your couch with a dozen small pillows, it may be a better idea to pick a few but large in size. 
Mix pillows in even numbers for a traditional feel
On the other hand, if you want to achieve a more traditional feel, it's best to embrace symmetry. By placing two, four, and six pillows, you can create a sense of order that exudes timeless elegance. 
Don't be afraid to experiment
You can always bring your own vision to the interior, so be sure to never stop experimenting, especially with pillows that are so easy to swap. For example, you can try mixing square pillows with round ones to create a captivating dance of geometries. You can also introduce bolsters that can add a touch of drama to your arrangement. Placed strategically, they offer lumbar support while making a distinctive design statement. 
In this article, we've shared some of the freshest couch pillow ideas that can help transform your living space. However, these aren't the only ways to decorate your couch. You can add a personal touch by introducing various patterns, shapes, fabrics, and colors and breaking rules as much as you like. At the end of the day, it's your home, and it's important that you feel comfortable there, regardless of what pillows there are in your pile.
MORE INTERIOR DESIGN IDEAS AND INSIGHTS:
DRESS YOUR FURNITURE IN PREMIUM COVERS