SHOP OUR SALES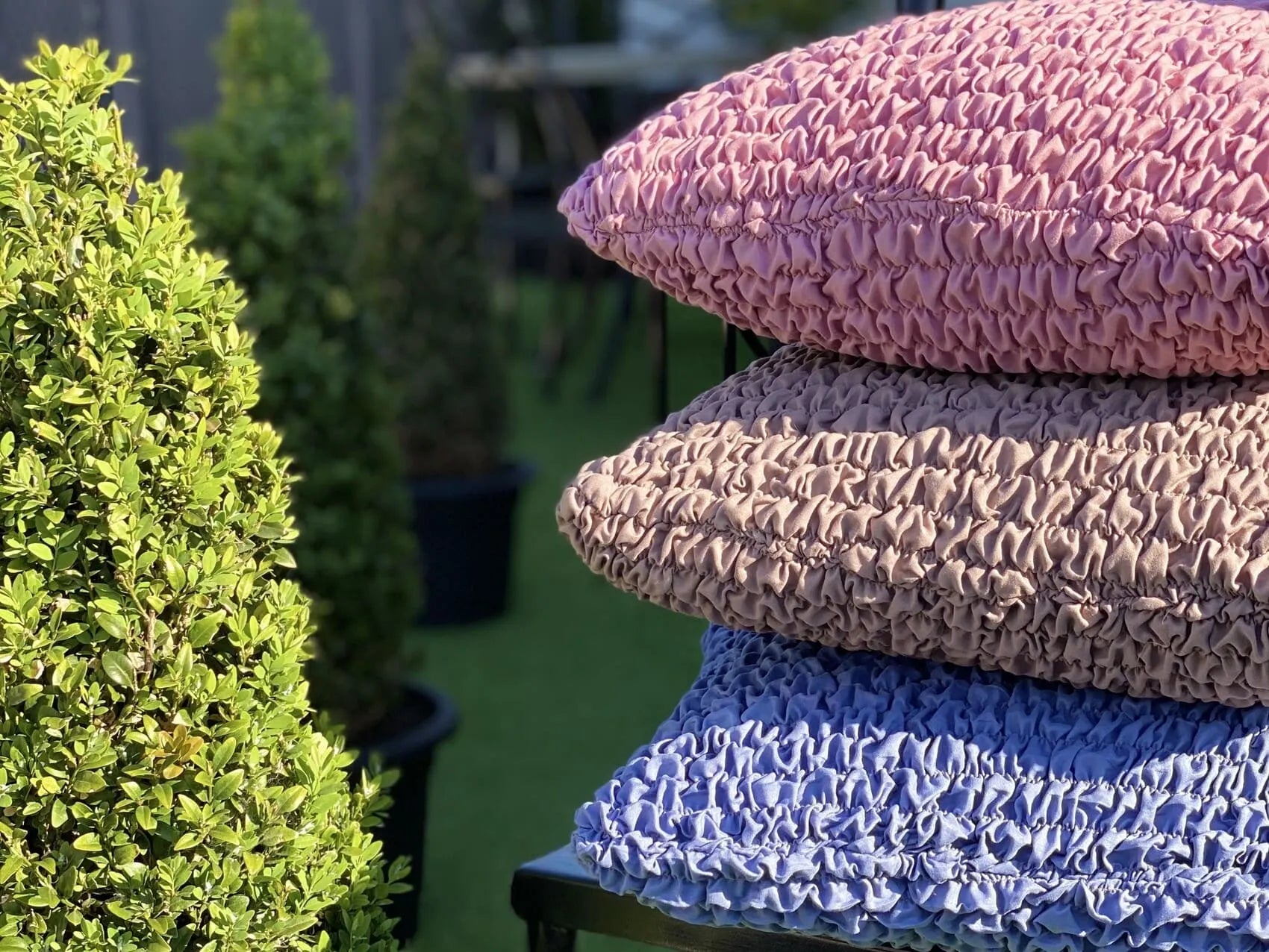 INTERIOR DESIGN
7 Fresh Color Trends Everyone Is Talking About
August 18, 2022
7 min. read
Even though the summer is almost over, some colors will remain trendy even in the upcoming season. There are many bright shades that can give a boost of energy to your home even on the most cloudy days.
By adding the following shades to your interior not only will you be able to keep that summer spirit in your house, but also provide a stylish look for your living room this fall. Use your creativity to create an up-to-date interior with the new slipcovers in both bold and pastel shades. 
Striking Burgundy
The presence of burgundy in the room can evoke emotions and inspire self-expression. It is a color of strength and bravery, which is full of energy and admiration. Choosing a slipcover of this shade for a sofa will make it the main accent in the room.
Combinations: 
You can mix burgundy with neutrals, black, white, and grey colors, or combine it with green hues in interior design. It'll match perfectly with navy blue and yellow. You can also create some eye-catching combinations by combining burgundy with peach and pink. 
Calm Beige
This shade will be a universal solution for any room. It fits perfectly into a working environment — if you decide to choose it for your office space — and will be a perfect addition to your bedroom if you want to establish a calming atmosphere there. Beige can lighten the area and bring warmth to the interior.
Combinations:
Beige can be combined with stone and wood. Use it with grey, blue, or light blue to get a unique interior environment. You can also try mixing beige with navy, gold, bold red, orange, and classic black.
Timeless Grey
This timeless shade never goes out of style and can find its place in almost any interior. Its natural medium tone makes grey very versatile and usable across a wide spectrum of colors. Grey can give the room a calm and sophisticated look, as well as make the space inspiring and dramatic. It will work well as a base color and as the main accent in the interior. 
Combinations:
Combine grey with monochrome shades and natural white. You can also obtain gorgeous combinations when mixing grey with mustard, green, blue, and teal blue. Grey can also work well with red and blush pink.
Ocean Blue
Social media and moving to remote work are subtly making their own adjustments to our lives. Now, more and more people feel the need to draw the line between the online and offline worlds, which leads to increased use of natural colors in the interiors. 
Ocean blue can provide a refreshing perspective for the upcoming season — being a high-summer color it perfectly blends in a bright fall palette as well. Compared with a traditional navy blue, the ocean blue is more punchy and thus would be a perfect choice for those loving bold design ideas. 
Combinations:
Complementary combinations of ocean blue with sage green, forest green, hot pink, or purple will look fantastic. You can also try mixing this color with off-white and cream to make the design more sensitive or with marigold, brown, or yellow if you're a fan of colorful spots in the interior.
Rejuvenating Teal
This shade combines the calming nature of blue with the revival notes of green. It is an encouraging and refreshing color that harmoniously balances discreet elegance and tranquility. 
Wrap your upholstered furniture into the teal slipcovers and you will feel how it brings optimism and spiritual balance to the room — all thanks to the combination of blue and green.
Combinations:
Combining teal with pink and white can give an effect of coziness. Adding yellow, brown, or royal blue can also be a great decision. You can also try mixing it with lime green, red, gold, purple, or orange. 
Elegant Pink
A playful, sweet, innocent shade that symbolizes inner peace and harmony, which makes it a perfect match for master bedrooms. You'll fill the space with romantic and charming notes by choosing this color. It will help you relax and soothe frustration by bringing warmth to your home and neutralizing clutter. 
Elegant pink is ideal for large spaces, and pink slipcovers will look gentle and pleasant both in your master bedroom and living room.
Combinations:
Elegant pink can be combined with teal, olive green, cobalt, and peach. Mix it with emerald, sage, or grey to make your interior more energetic. It'll also look fantastic with gold, burnt orange, and black shades. 
Muted Green
The beautiful deep tones of muted green traditionally associate this color with healing. Its soothing and fresh shade can bring a sense of calmness and help to manage anxiety.
It symbolizes harmony and growth making you feel safe. Muted green is infinitely pleasing to look at in the living room, so it's worth considering getting a slipcover of this color for your settee there.
Combinations:
Muted green works well with neutrals, white and grey colors. If you want to go creative, we recommend mixing it with yellow, purple, red, or pink. Blend it with orange, blue, or violet and you'll be pleasantly surprised by the result!
We hope that the tips above have helped you not only to find out what colors will be in trend next season but also get an idea of how colors affect our lives — both physically and psychologically. Create the right atmosphere in your home by learning new information about different color combinations!
MORE INTERIOR DESIGN IDEAS & INSIGHTS:
DRESS YOUR FURNITURE IN PREMIUM COVERS